NELSON "TIMPAN" STEWART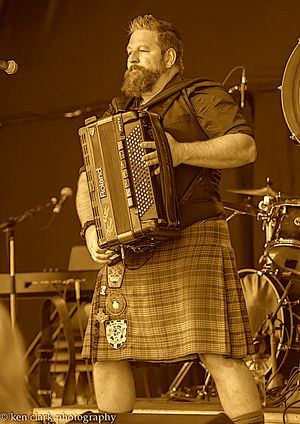 Nelson is sponsored by Roland (
www.rolandus.com
) through
Anderson's Accordio
n Service
.
Dubbed "Bon Scottsman" by fans, and "Timpan" by his grandson, Canadian Nelson Stewart is the manager, booking agent, webmaster, and social media director for the band and has been a musician/storyteller for many years in such diverse musical genres as rock, Celtic, funk, punk, blues, folk, jazz, pop, soul, and classical.  No surprise as he was raised on equal parts Soul Train, Hee Haw, and the Lawrence Welk Show.  He is a singer/songwriter/producer who plays piano, guitar, accordion, bass, mandolin, sax, harmonica, bodhran, drum kit and various other drums, and he has also studied Japanese drumming provided by members of world-renowned taiko group, Nagata Shachu.  When Nelson is not performing with the American Rogues he also appears with other groups.  In 2018 Nelson was chosen as the Honourary Clan Chieftain for the Moncton Highland Games in Canada.
Nelson was a founding member of the popular Celtic rock band,
The Swinish Multitude
.  He later formed
The FictionMakers,
becoming their lead singer and chief songwriter.  Nelson has recorded with various artists as a studio musician and has shared the stage with Allison Krauss, Bruce Hornsby, Lindsey Stirling, Jully Black, Haydain Neale (JackSOUL), Tom Wilson, Our Lady Peace, Big Sugar, Ashley MacIsaac, Leahy, Kilt, Queen Cee, and The Mahones. Prior to the American Rogues show with the U.S. Air Force Orchestra the highlight of Nelson's musical career was headlining gigs by
The FictionMakers
in Toronto at the Horseshoe Tavern, the Opera House, and the El Mocambo, site of legendary shows by U2, the Rolling Stones, and Stevie Ray Vaughan. He continues to write, produce and record in his own facility, Mayhem Studios.  The award-winning American Rogues album,
3 LBS. OF RAGE
, was recorded at Mayhem.  Nelson sits on the Board of Directors for Military Veteran charity, Operation Ward 57, and he has helped raise funds and awareness  for the National Navy SEAL Museum, Wounded Warrior, Homes for Our Troops, K9s for Warriors, the Police Emerald Society of Baltimore, the Cancer Society's Relay for Life, the S.P.C.A, the Good Shepherd, Make-A-Wish Foundation, Habitat for Humanity, the Canadian Diabetes Association, and Interval House.  He was inspired to create DEAKSTOCK in 2007 to provide assistance for Armed Forces Veterans through the close friendship he has with various members of the military and through the deep respect he has for those who keep us safe.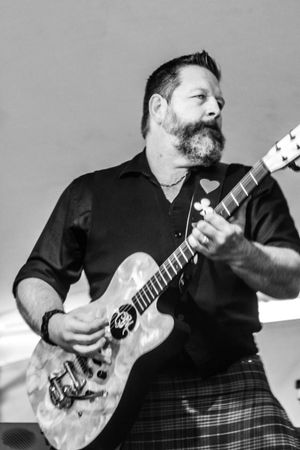 Nelson graduated from McMaster University on the Dean's Honour List with degrees in English and History while he also studied ethnomusicology and philosophy. He also received a Bachelor of Education from the University of Western Ontario, again on the Dean's Honour List. He is a school teacher in Canada where he also conducted a stage band, a funk band, a concert band and coached soccer, volleyball, and football.  Nelson also conducted and performed with a professional group comprised entirely of musicians who had been taught by him called the Waterdown Show Band.  He was Assistant Producer of large, multi-cultural Martin Luther King Day concerts held in Canada, and he regularly performed at annual Black History Month concerts.  His school bands also recorded their first album in the music room at his school.  Entitled
Rock & Soul
, the album includes songs by Stevie Wonder, the Police, the Bar-Kays, the Beatles, the Commodores, Queen, Blink 182, Ozzy Osbourne, and Isaac Hayes, among others. His passion for education has led to his nomination for a Profiling Excellence Award, a series of designations recognizing and honoring exemplary programs and achievements within his school board (he was told he didn't win because it is only awarded to groups of people, not individuals).
Nelson is a contributing writer to the SENDS Science of Cyberspace White Paper, created by his good friend Dr. Carl Hunt, and he has been a writer for the SENDS Blog. Nelson has also been an early adopter in the use of cyberspace socio-technological convergence to popularize both the Celtic music genre and the other bands with which he has performed.  He and his bands have pushed the envelope of cyberspace to produce, disseminate, entertain and solicit new opportunities through constantly growing interconnections.  To learn more about SENDS please visit
www.sendsonline.org
.
In his spare time Nelson plays hockey, soccer, and golf (under the watchful eye of his golf pro, Dr. Carl Hunt), swims, and reads.  His favourite thing to do is spend time with his grandson, Sid "Shorty" Malone, who is also a member of the band, his granddaughter, Wellesley, and her brother, Bodhi.  Nelson also has a pretty serious crush on Wilson Pickett.  He is a supporter of Manchester United, St. Mirren, the Hamilton Tiger-Cats, and Team Canada.
His favorite actor: Steve McQueen. Hands down.
Guitar photo by JND Photography.
CLAN CHIEFTAIN, MONCTON GAMES, 2018