"FABULOUS!" 
-- HIGHLANDER MAGAZINE
FANECDOTES
Please email us at
info@theamericanrogues.com
if you have an intriguing or titillating American Rogues story you'd like to share and we'll post it on the site. Please note that by sending us your story you are granting us permission to edit the story or post it in its entirety. Please indicate in your email whether you would like to have your name included.
---
BAGPIPES IN IRAQ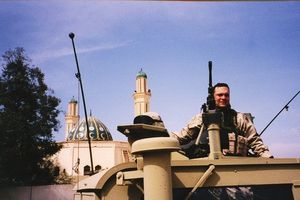 It's nearly 3:00 AM in Iraq. While the people in town sleep Sgt. John Cangelosi of the U.S. Army Psychological Operations Unit -- PSYOPS -- is awaiting orders. Around him in the darkness are members of various other units involved in the impending raid -- U.S. Marines and Special Forces including Navy SEALs. They have gathered in this place to apprehend several high-value targets that pose a threat to U.S. security. Sgt. Cangelosi is ready to do his part. Attached to the side of his Humvee are 3000 Watt speakers; at his fingertips the controls of a powerful weapon. At precisely 3:00 AM John flips the switch and for what must seem like an eternity the speakers blast a sound so frightening to the residents of the town they pour from their homes with their hands held high. The targets are all captured without a single shot being fired. The sound coming from the speakers... music by the band. This is a true story and we're proud to have done our small part. Thanks again for your service, John.
---
RAISED ON AMERICAN ROGUES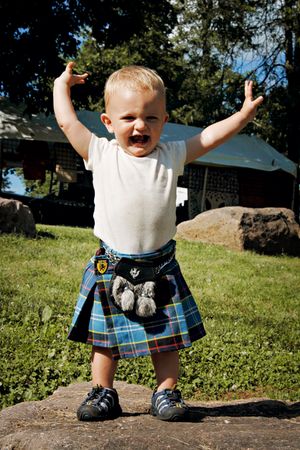 The American Rogues will always have a special place in my heart :) In the Fall I received a call from my doctor right in the middle of an American Rogue performance, who shocked me by telling me I was 7 weeks prego based on blood work that came back for test I had run for other reasons. LOL. From then on out our baby, Connor, was brought up listening to American Rogues and other Celtic Music, both in and out of the womb. He saw the American Rogues for the first time in PA on Saturday and instantly started dancing!  So cute was he that ladies started coming up and putting dollars in his sporran :) LOL He's found a way to contribute to his college fund!  His daddy is also a retired Vet so our family is very grateful for what you do for our Veterans :)
Thank you American Rogues!
Lyndsey Warren Pool-Szczesniewski
---

THE AMERICAN ROGUES AWAKENED MY GRANDDAUGHTER

Hi there! I wanted to drop you guys a line and thank you again for allowing my granddaughter to play on your drum.  You all have been such a great influence on her. Just so you know... when Sakeeta and I first got custody of her, she was full blown autistic. The first words anyone ever heard her say was a few years ago... when you were over on the other stage... we were walking past just as you started playing. Normally, loud noises made her ball up and go into an autistic fit. That day, Allison stopped and stared at the bag-pipes that were playing. Sakeeta and I just knew we were in for another hour of her in melt-down. Instead... Allison stared at the bag-pipes, pointed (another first) and said, "What's that?" She never went back into the world of silence and screaming after that day! Your music brought her out of a darkness that nothing else had reached. Thank you all. And thank you again for allowing her to feel so special and so loved on the one day she got to come hear you play again this year.

Blessings. Safe journeys on the road.
Mary
 
---
THE AMERICAN ROGUES AWAKENED MY GRANDDAUGHTER PART II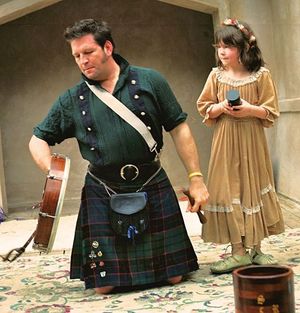 This is a really nice story. You may have read the previous Fanecdotes page of our website about a young girl named Allison who was autistic but spoke for the first time when she heard us playing on stage. After that I often brought her up to join us because it clearly made her very happy.  Several years later, In 2013, Nelson received the following message:

"Ms. Allison recently returned from an audition for America's Got Talent.  We won't know if she made it or not until sometime in the spring but we also provided a video audition. From the child stuck in autism... you gave her an avenue to talk, sing, and FLY!! There really is nothing we can do to repay the light you brought into her life. So many blessings.  

 

Mary and Sakeeta Ehlenfeldt. (Legal Guardians of Ms. Allison Lewis...the mouse that roared.)"

Thank-you so much, Mary and Sakeeta... you just made all of us very happy.
 
---
здравствуйте!

Best greetings to Nelson, Lyric, Doug, Corey, Tyson, etc.!  Will You be kind enough to make a precious gift of two sets of Your hand-written signatures ( one set for ALEXANDER and one set for my brother VLADIMIR )? We shall be glad to receive Your original ( not printed ) autographs sometime. Thank You very much in advance ! We shall feel highly honoured. We wish You all the good lucks and all the best always and everywhere ! Let the successes and the joy of life accompany You in all Your deeds !

Sincerely,
ALEXANDER and VLADIMIR STOLYAROV,
BERDYANSK, UKRAINE.
 
---
CHARMING, TOO!

Hi, guys! My name is Andreza, 27, I´m from Natal - RN - Brazil. I´m a big fan of celtic music and it was a surprise for me met you... you´re talented and very charming... Have u ever been in Brazil?

Hugs,
Andreza
 
---
GREETINGS FROM INDIA!

hi american rogues, ur latest admirer.

love ur music.  nd here's a humble request--- MUSIC OF INDIA is worthy of listening . pls type "Sunita Jhingran" on youtube nd judge for urself.  Pt. Ravishankar was from India.He collaborated with the Beetles.  Maybe.............it will be a boon for music lovers around the world. Nd a Grammy wudn't hurt. love ya. I am from India. CELTIC ONNNNNNNNNN..... :)
 
---
THE AMERICAN ROGUES ARE MY INSPIRATION!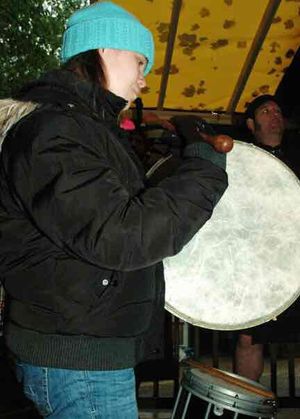 I've been following this amazing band for the past 13 years. I'm so incredibly honored to know some amazing people who put a smile on my face every time I see them perform. I love how involved the band is with the military. Seeing how you impact so many peoples lives inspires me to me to do that with everyone I encounter in my life. Also if it wasn't for Nelson I would not have wanted to play the bodhran, I'm so happy I decided to learn to play & I learned by watching you perform. Listening to your music makes me happy, when I'm having a bad day I just start listening to your music, and my day is so much better cause of it. My favorite Celtic band ever, you guys are number one! Nelson & Jeania, I love you both so much!!! Thank you for everything you do!
Taylor C
EDITOR -- WE LOVE YOU, TAYLOR!
---