CATHERINE DOERSCH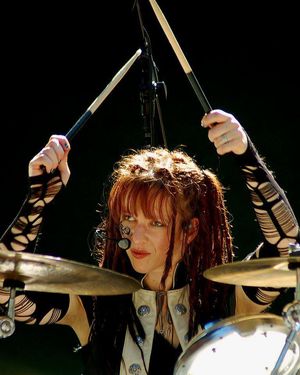 "And the percussion section of the orchestra plays the sound effects..."

With these words from my fourth grade teacher, I began my life-long love affair with percussion. This, of course, thrilled my grandfather - a former professional dixieland drummer who promptly retrieved his dusty old drums from the attic to donate to the cause. This love affair has taken me to venues large and small - from church ensembles to rock bands, from symphony orchestras to Broadway-style musicals, and from the Celtic world to Busch Gardens theme park.

My passion took me through middle and high school band, and eventually to Christopher Newport University to earn my degree in percussion performance. Over the years, I have appeared and toured with a variety of bands, most notably Celtic Rock band, Coyote Run. Celtic music was entirely new to me, and once I embraced it I never looked back. I enjoyed touring nationally and internationally with Coyote Run for 8 years and had the wonderful opportunity to perform with a variety of very talented performers from the Celtic world. With Coyote Run's retirement, I was hired into the Irish dance show Celtic Fyre at Busch Gardens, performing alongside world champion dancers. This led to 2 seasons in the very silly Dig it Up! where I thoroughly enjoyed clowning as a neanderthal percussionist. Most recently I am thrilled to have signed on with the American Rogues -- kicking off with the spectacular Constitution Hall show in Washington, D.C. accompanied by the Air Force Symphony Orchestra.  I look forward to many more performances with this group of wildly talented musician/entertainers.