BROOKE STEWART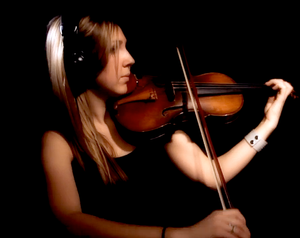 Canadian Brooke Stewart has been playing the violin for over 20 years, having begun her studies at the age of five. Upon graduating from Memorial University of Newfoundland with her Bachelor Degree in Music Performance, she moved to Toronto as a freelance violinist. Some of her most memorable performances have included orchestral shows in Russia and Poland, as well as a live performance on CBC Studio Q as part of a cross Canada tour with indie-rock band, Hey Rosetta!  Brooke enjoys collaborating with musicians of all styles and genres including Celtic, country, dubstep, rap, jazz, heavy metal and classical.

Currently, Brooke can be found teaching violin in Toronto and Durham region as well as performing with Euphonia Toronto, Beaux Strings and Santuarium. She is very excited to collaborate with The American Rogues!

Check out her Facebook page to stay up to date on performances and projects, or visit her website for videos, pictures, bios and more!
https://www.facebook.com/brookestewartviolin
www.brookestewartviolin.com