CELTIC MUSIC MAGAZINE REVIEW -- "3 LBS. OF RAGE"
Love the pipes? If you are nodding your head, then you'll love this band!  "3 LBS of Rage" delivers a multitude of great tracks, showing off the skill and style that made them such a popular group. This is a CD that any Celtic music lover would be proud to own. There's a terrific mix of songs here... you have easy fun, like "South Australia" alongside tracks such as "She Walks on Water" – a pretty tune.
The big star here though (as far as I'm concerned, anyway) is "The Gael", which is an absolutely stunning piece of music. At nearly 8 minutes long, this melodic track is far more serious than others on the CD, but it really shows that this is a band with range and skill. I sat back and listened to it three times in a row–and may just do it again after I write this.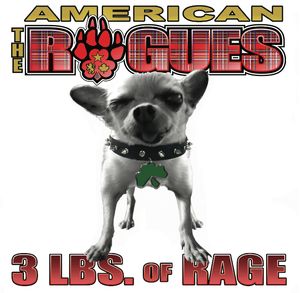 It was, quite simply put, spectacular. Worth buying the entire CD to hear just this one song.
Not to say that the other tracks are poor–they aren't. I also enjoyed "Panda (The Other White Meat)" immensely–the pipes were right on. And "The Measure of a Man" was the perfect track to cap off the album. Each new song had something different to offer and I found myself often surprised at how different they were from one another. Sometimes that can make a CD seem disconnected, but it actually works here. The arrangement was a little unusual, but I found myself curious as to what I would hear next.
All in all I'd say this CD was a triumph for a band that really has it together. Immensely enjoyable on many levels, "3 LBS of Rage" may not be what is expected, but that's part of their charm.
Now I think I'll play "The Gael" one more time. 
Similar Artists: Tartanic, Red Hot Chilli Pipers, Dropkick Murphys, Mumford and Sons, The Chieftains 

Catherine L. Tully specializes in writing about the arts, lifestyle and travel. She is the Owner of 4dancers, a blog for those who love dance, and Editor for Freelance-Zone, an award-winning site for freelance writers. Catherine also reviews music for Celtic Music Magazine.